From picking the freshest fruit to watching flowers reach full bloom, some experiences are best when in season. But is there a right time of year to see alligators on an airboat ride? It might be true for some states. In Florida, however, just about every day of the year is filled with endless gator action.
When Are Alligators Most Active?
Because Florida has a year-round tropical climate, every season has prime opportunities to see gators on the shore and in the water. In fact, airboat tours are offered throughout the year because there's always wildlife to watch out for. From the start of winter through the start of spring, Florida wetlands go through the "dry season." On the other hand, during the months of May, June, October, and November, the Florida Everglades thrive in the "wet season," or rainy season. Luckily, no matter which season you travel to the Everglades, you're sure to spot some gators.
When Can I See Baby Alligators?
While you can easily see full-grown alligators throughout Florida and throughout the year, there's a small window of time for those who want to see gators at their tiniest. Before the wet season starts, alligators start mating in Florida. So, by the time September rolls around, most female gators are ready to hatch their babies.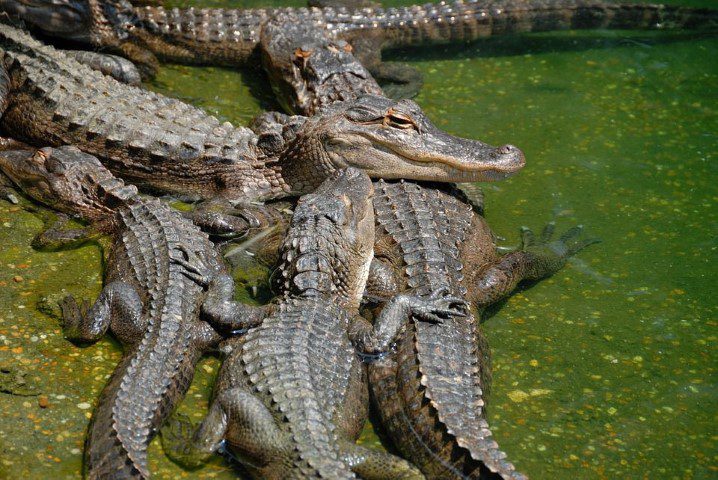 What Time of Day Will I See a Gator?
The right time of day to see a gator depends on the season in which you take a tour. Because Florida summers reach peak temperatures during the afternoon, gators are more likely to sunbathe early in the morning or right around sunset. That's because these times of day are a cool escape from the extreme midday heat. However, during the winter months, gators tend to soak up the sun in exactly the opposite hours: the afternoon. Because winter temperatures can be lower when the sun goes down, gators like to take in as much heat as possible in the colder months.
Where Can I See Alligators on an Airboat Ride?
Depending on the time of year, hour of the day, and season of the state, you could come across gators of any shape or size. If you want to see one up close on your next trip to Central Florida, book an airboat ride with Grape Hammock Fish Camp. Touring through the headwaters of the Everglades, our USCG captains can map out all the best gator sightseeing spots. To reserve your seats on one of our airboat tours, contact us today.